NEW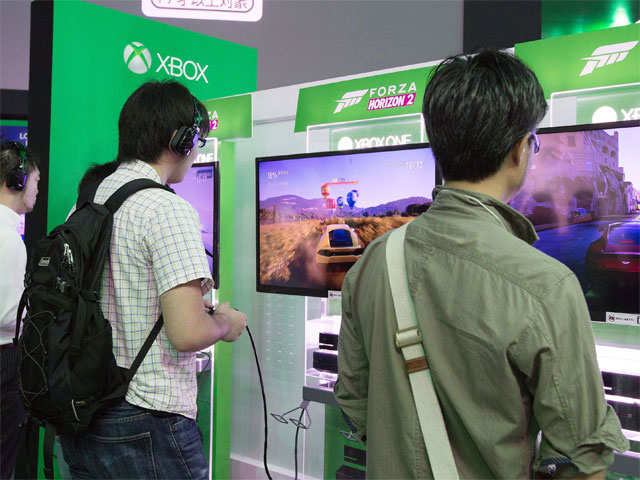 DELHI: Microsoft is planning to go Indian big time, offering Bollywood movies and music on its latest Xbox One platform as well as EMI schemes to aggressively market the gaming console, which will be launched on an 'online exclusive' model in the country this week. While equated monthly installments (EMI) would be a global first along with online-only sales model for the software major, providing content such as local movies and music is a model Microsoft intends to replicate from developed markets. The company will tie up with local content aggregators to provide Bollywood movies and music, said Chakrapani Gollapali, country general manager for consumer channels group at Microsoft India.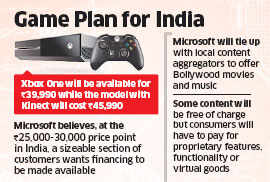 It will follow the 'freemium' model where some content will be free of charge but consumers will have to pay for proprietary features, functionality or virtual goods.
On the EMI scheme, Gollapali said that at the Rs25,000-30,000 price point mark in India, a sizeable section of customers wants financing to be made available.
Microsoft is launching the Xbox One in India only on Amazon, pre-orders for which began in mid-August, taking a cue from companies such as USbased Motorola and China's Xiaomi, which sell their smartphones exclusively through websites.
The standalone Xbox will be available for Rs39,990, while the model with Kinect, an interface that allows the use of gestures to play games, will cost Rs45,990. Microsoft did not share the number of pre-orders so far, saying that 70% of them from India were for the Kinect variant. The software giant pegs the Indian market on a par with Spain or Italy in terms of gaming spending, with the potential of reaching the size of Germany and breaking into the top 15-20 countries by 2016-17.
"Gaming and entertainment industry (in India) is close to $11 billion, of which gaming is $1 billion, making it a fascinating launch market for Xbox One," said Gollapali. The estimate includes gaming on smartphones. According to estimates from international games-market research firm NewZoo, which tracks and ranks countries based on gaming revenue, India is still on the fringe of the top 20 with about $307 million revenue in 2014.
The US leads with $20 billion in gaming revenue, followed by China and Japan, with about $17 billion and $12 billion revenues, respectively. European markets, including Germany, Italy and Spain stack up in the top 10 with revenue between $1 billion and $3 billion. Xbox One has sold 5 million units largely in the US and European markets since its launch in January this year.